Playout Features
Cable TV Channel Scheduler Software | Download Satellite / Cable TV Software
1. Best Play List :- Just Create, save, load Playlist to Play your Media files
2. Play any format video like ( avi ,mov ,mpg , mp1 , mpeg2, mkv, mpeg4, dat, vob,
3. Video Size:- Play multiple size videos like HD, SD, 320x278,640x480,720x576,1024x568 and above
4. Trim Video Clip by Start mark & End mark to set for playback in playlist
5. Record Live video input , Record Playout with text and graphics
6. Guaranteed 100 % Seamless playback no black gap when file changes
7. Gapless switching between files multi-format multi-size video Hi-Quality Playout
8. Set categories for each video file like Song ,Movie, Advertisement ,serial etc ..
9. display Categorized video files by color code in playlist
10. Playout Preview with Text & graphics with audio VU Meter levels display
11. Complete video info like video clip size , clip played , clip left , clip total duration
12. Create Playlist of various format videos of any size and load play list and just play it to on-air
13. Add - remove videos in running playlist by auto play time calculation
14. Cut -Copy -paste videos from play list instantly , Move up Move down Videos in Playlist
15. You have 5 Switchable Layers of compositions (Unlimited Text & graphic Items ) to video files
16. An optional single composition (Unlimited Text & graphic ) can attached to fixed video file
17. Playout to any output source like Composite, Component,HDMI , SDI Using Decklink Cards
18. Schedule Playlists to play at fixed time and Date in advance
19. Add video to running playlist immediately and just play instantly
20. Auto (on off ) of composition (Unlimited Text & graphic ) on a video type like no graphic on commercials video files or only channel logo to display over commercials
21. Instant Switching ON – OFF text & graphics (Unlimited) overlay over Playout
22. Live video input using decklink cards & and Jerk less Switch live to on air.

broadcast graphics overlay software, news channel automation software , Live Video Broadcasting Software, Cable TV Channel Scheduler Software, Effortless Installation & Implementation , Strong Customer Support Backup .

Supports all video formats
Logosys Playout Server 7.0 can now play all the current broadcast formats in both SD and HD, and output them to one or several video cards and/or screens simultaneously. Choose between NTSC or PAL; progressive, upper-field or lower-field interlacing. When outputting to computer screens, you can even define your own resolution and frame rate!
Plays all common formats
Logosys Playout Server has always been able to play many video formats and codecs, such as DVCPRO, DVCPROHD, MPEG‑2 and many AVI and QuickTime-wrapped codecs such as Animation+. That support is now extended with codecs such as Avid DNxHD, MPEG‑4, FLV and H.264. Now that you can generate an alpha channel from any media type, it's easier than ever to output good looking HD without having to use large files. The new support also includes most common
Much, much higher performance
By rewriting the software for multi-threading, Logosys Playout Server 7.9 can now take advantage of all your processors by performing many tasks in parallel. Other tasks have been moved to the graphics card, further increasing the performance and enabling real-time functions like scaling. Reading files from disk is now asynchronous and the buffering has been greatly improved and user-configurable.
Stack multiple media freely and re-order them on the fly
All the media you add to an output channel is composited in real-time, using the alpha channels. Play videos, Flash templates, audio and images at the same time and choose the stacking order freely. The Logosys Playout software can even reorder media while it's playing, and mix the layers using Blend Modes such as Add, Screen and Multiply.
Output to computer screens
The fully GPU-accelerated Screen Producer can be used to display playing media on one or several computer screens, either fullscreen or windowed. Choose if you want your content scaled to fit the screen or displayed at the native resolution. If you have several screens attached you can either choose to mirror them or use each as a separate output. Interlaced media is automatically de-interlaced when you output it to a progressive screen
Multiple video cards in one server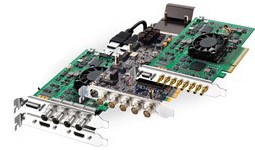 While Logosys Playout is a software-only solution, you can add pro video cards if you need broadcast output. The software supports multiple cards in the same machine, no matter if you use cards fromBlackMagic Design or Bluefish Technologies. You can even use cards that have multiple channels, letting you use smaller cases that are easier to fit in a small rack.
Grab input video and overlay your graphics and videos
Video and audio input into a DeckLink card can now be used just like any other media. Use it as one of several layers (each of which can be transformed with the Mixerfeature) or just overlay other media such as video and graphics on top and then output it. You can even cut a hole in the input video with another video, a Flashtemplate or an image!
Generate alpha channel from a separate file of any type
Use the embedded alpha channel of videos, Flashtemplates and images, or create the alpha channel with a separate file. You can cut a hole in a video file with an animated Flash template, or even an animated image! HD video codecs that are alpha-capable tend to generate very big files. Logosys Playout Server instead lets you use two small files with an alpha-free codec such as H.264; one for fill and one for alpha!
Built-in video effects (DVE)
All playing media can be manipulated in real-time. You can move, scale, mask and change the opacity and video plus audio gain with the new real-time Mixer feature, and take advantage of the built-in animation types, just like with transitions. Other GPU-accelerated effects include image adjustments such as Brightness, Contrast, Saturation and Levels can also be applied, and the Mixer can even de-interlace video, transform it and then re-interlace it correctly.

Great audio options including SDI‌ embedding
Both the Bluefish and DeckLink video cards can now embed audio in your SD/HD-SDI output. Many DeckLinkcards also output audio in via the HDMI and AES/EBUconnectors. Audio is now automatically conformed to correct sample and bit rate in real-time, making most audio transcoding unnecessary.
Monitor real-time performance
With the new Diagnostics window you can see a graphical break-down of how long each step in the process of outputting a frame takes. This helps you optimize performance and trouble-shoot lagging video by seeing, for example, how long it takes to read a file from disk. With the new commands you can now query an individual layer's status.
Grid-view of all playing media
With a simple command, you can output all your playing channels as a grid view to a screen and/or video output. Combined with the feature that lets you grab the input video from a DeckLink card, you can build yourself a monitoring station!
Animated transitions, queuing and custom loop points
By using the built-in animation functions, you can instantly create a professional transition between playing media, no matter if it is video, Flash templates, audio or images. Mix between a video loop and a graph, or wipe on a chart on top of an image, for example. Video and audio files can now have a custom in-point for the built-in looping functionality. You can also choose to pause/freeze any playing media, even Flash templates. With new command functionality you can also queue several video clips and have them automatically play the next clip once the the previous clip has finished.
Works on Windows 7 and Vista
Logosys Playout Server 7.0 now fully supports modern operating systems and can be installed on both 32-bit and 64-bit versions of Windows 7 and Windows Vista. Take full advantage of faster disk access and enhanced performance when upgrading from Windows XP (which is still supported.) All configuration has moved to a text file and we don't even use an installer anymore. You can now also move the Logosys Playout folder freely and place it wherever you please!